With Spencer 27 Years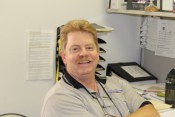 Responsibilities - Sales, project coordinator for installation. Jay has extensive knowledge of home comfort issues.
Certifications - NATE, EPA
Career experience - Four years in the Navy -- air traffic controller, operations specialist at sea in air, surface and sub surface tracking and secure radio communications; contractor framing houses and decks, etc. Understands building structures.
Bio - A native Atlantan, Jay lives in Lawrenceville, Georgia.
In my free time - "I am a sports fanatic! I play guitar and lead worship at various venues."
This email address is being protected from spambots. You need JavaScript enabled to view it.